The Best Starts for Kids initiative is designed to ensure that all young people in King County are happy, healthy, safe and thriving. In the Out-of-School Time initiative, SOWA partners with organizations providing afterschool and summer programming to elementary and middle school age youth. Our cohort of providers prioritize the well-being of their participants and their community. There is no shortage of happiness within their work! Below are two organizations who made it their mission to spread joy during difficult times.
Empowering Youth and Families Outreach (EYFO) developed creative ways to connect, despite isolation within the pandemic. The organization held an end-of-season celebration that included pizzas delivered to all program participants' houses so they could have a virtual pizza party.
They also hosted an outdoor moving screening at a DIY theatre built in a cul-de-sac. Parents dropped off their kids with their "movie tickets" in hand, and settled into socially-distant lawn chairs with blankets and boxes of theatre candy to enjoy the show.
Providing opportunities to get outside was also central to EYFO's work during the pandemic. "One student, Aaron, indicated that he learned the joy of going outdoors and just enjoying that space in our outdoor golf class," said executive director, Charlett Shoecraft.
The organization wasn't able to take kids camping on field trips, so instead they enabled parents to go. "We provided tickets to the aquarium, and zoo. We also purchased equipment and supplies for families to go on a family camping trip… most indicated that they had never been camping," said Shoecraft.
"Because of the programs that you offer, we are spending more quality time as a family," said one of their participant's parents, Amiyra.
These activities help youth stay engaged in EYFO's other programming, which includes career-connected learning, financial management, and cooking classes. Through Best Starts, they hired 5 more tutors to provide virtual support for students. EYFO is committed to never compromising on joy—it's central to how young people learn and grow, and needs to remain at the center of youth programs.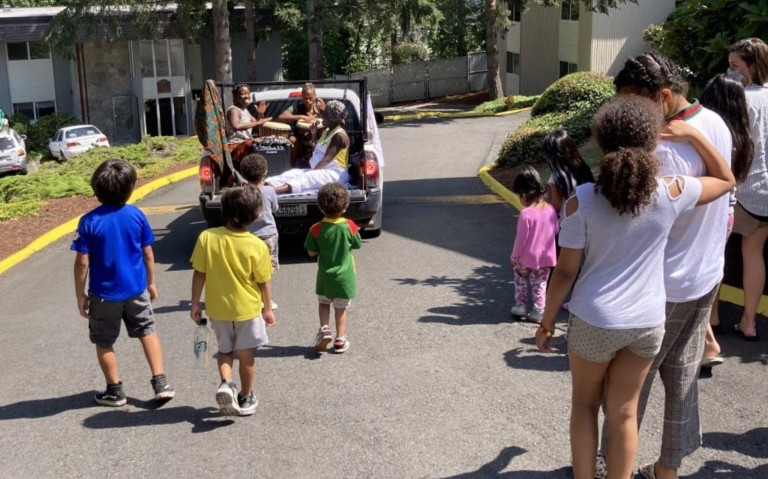 Arts Corps brought joy to young peoples' doorsteps throughout the entirety of the pandemic. The organization was among the first to develop and deliver at-home art kits, which included materials, activity guides, and resources that promoted parents and guardians' participation in projects.
Within the last year, they added an additional site to their service area and now offer arts education for middle schoolers at the Alcove, Arbor Heights, Windsor Heights, and Woodridge housing communities.
Arts Corps' guiding principle to "make art anyway" was highlighted during summer when they orchestrated a drive-through dance party for these housing communities in South King County. Families boogied on balconies and gaggles of kids trailed behind the pick-up truck that drove Arts Corps teaching artists drumming and singing throughout the neighborhoods.
"It was new territory. How could we ensure that we were not adding to the burnout that many families expressed that they were feeling. How could we provide youth with the opportunity to #makeartanyways," said associate director of arts education, Olisa Enrico.
In conjuring up celebration for its own sake, Arts Corps showed that creativity, expression, and community are rich ingredients for joy— and that all can join in!