In a year like no other, School's Out Washington saw how youth workers and organizations came together and reimagined what it meant to support children, youth, and families. Below is one of 20 people and organizations that inspired us in 2020. Read the full report.
A Q&A with Nuestras Raíces
The Nuestras Raíces session at SOWA's 2020 virtual Bridge Conference invited attendees to hear a collection of unfiltered, raw, and authentic multilingual stories and voices around the complexities of carrying the Latinx identity in the U.S. 
With vulnerability and honesty, youth workers and expanded learning professionals told their stories and how they work to decolonize spaces, heal, and support young people.
Speakers Jocelyn Reyes Chávez, Mariela Rosas, Maria Pia Johnson Barreto share their thoughts about the session.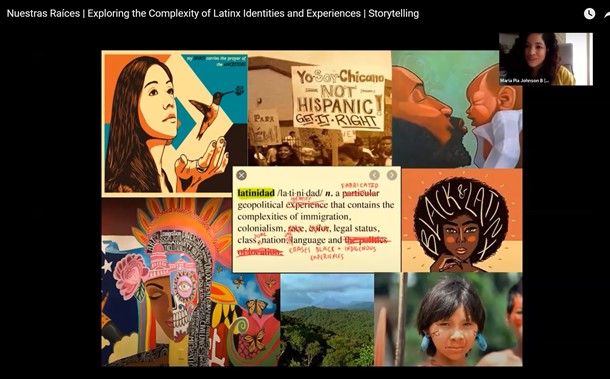 What was your takeaway from the Nuestras Raíces? 
Jocelyn: Sense of community. We're sharing more than just a label. It's about the shared experiences we all have.
Maria Pia: Bringing people together and identifying a need for space. Creating room for fearlessness. It was about us making a statement. We don't want to be translated and we want to be authentic. 
Mariela: People wanted to hear our stories. Know that we are doing our part, educating…our communities. We were doing our part. 
What do you want people to remember about the event? 
Jocelyn: It's important to speak our truth even when it's uncomfortable. 
Maria Pia: All different stories and all are powerful. The importance of creating spaces is fundamental to our work and for the youth to see.  
Mariela: Being Latinx doesn't mean we all come from the same background. We are all different—customs, cultures, language, and all are rich. We are all a culture and we all support each other. 
One sentence that comes to mind when you think of the event? 
Jocelyn: Poder del corazon (power of the heart). 
Maria Pia: Rompiendo esquemas y moldes (breaking schemes and molds). 
Mariela: A storyteller is a door open to the world.