Adding an organization: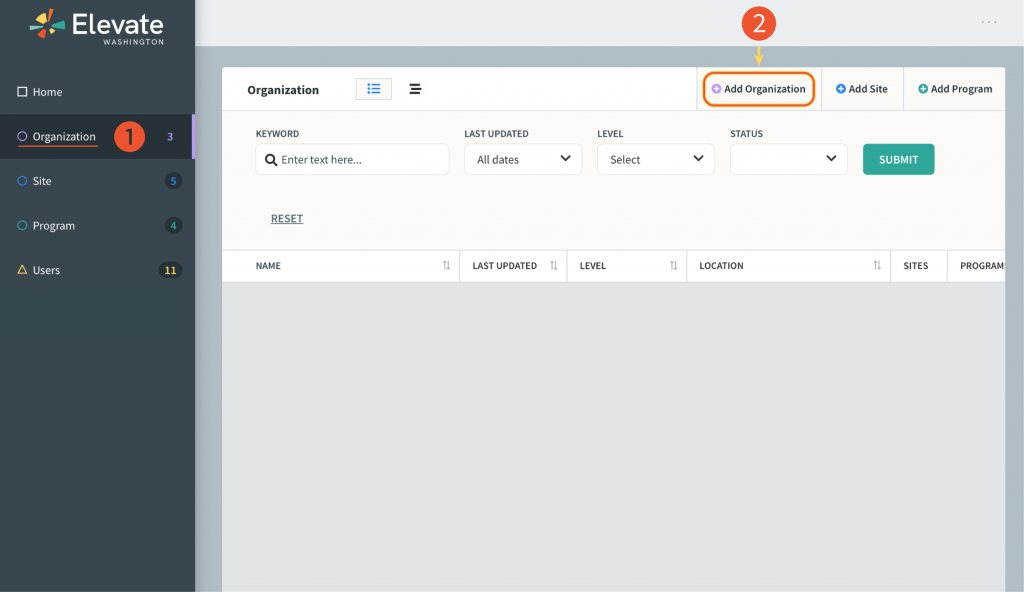 Navigate to the Organization link in the left-side menu.
Click the + Add Organization button in the top-right area of the window.
Type in the name of your organization. If your organization name is found in the system, you will be prompted to request access or claim your organization.
Fill out the requested fields for each section. You will be asked to include basic information for one site and one program as well.
At the end, you will see a summary of the information you provided. If everything looks good, click the Submit button!
This process should only take a few minutes to complete. Elevate Washington will review your submission within 2 business days. You can continue to add information to your organization, site, and program profiles during this time. You can also add additional site and program profiles.
---
Editing an organization:

You must be an organization administrator in order to edit.
Navigate to the Organization link in the left-side menu. You you see a list of all profiles that you have access to.
Click on the name to open the organization profile.
Use the menu on the left to navigate the profile sections.
When you've completed your edits, click the Save button in the top-right corner.
Deleting an organization:
Please contact us if you need to remove your organization from the member system.